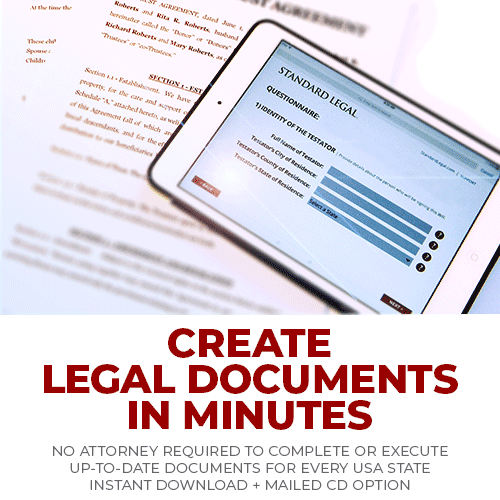 Last Will & Testament Legal Forms Software
$14.95
Don't let a Probate Court decide who gets what family assets! A Last Will & Testament from Standard Legal ensures YOU decide the distribution of your estate. Answer some simple questions and the software automatically drafts a customized Will document. Match your personal family situation with the laws of your state. Speed the passing of your property to your loved ones. Create the Last Will & Testament you need for your family in minutes, at a fraction of an attorney's fee!
(SAVE 33% on this Will: Estate Plan Essentials >)
Description
AMERICA'S BEST LAST WILL & TESTAMENT SELF-HELP LEGAL DOCUMENT SOFTWARE
A Last Will & Testament is one of the most important legal documents a person can create during his or her lifetime: it determines who receives the assets of that person after death.
While the common laws of most states are set up to provide the assets of an estate first to the surviving spouse and then to any children of that person if the spouse is no longer living, this hierarchy of distribution is not always guaranteed.
Spending just a few minutes today to create a legal Will is simply smart estate planning: a Last Will and Testament will guarantee that your family receives the assets of your estate when the time comes.
Why let the vagaries of state laws or the decision of a Probate Court Judge affect the finances or your family or friends after you die?
Creating a legal Last Will and Testament document allows the Testator (the person whose assets will be distributed) to specify exactly who is to receive what property from your estate. More importantly, creating a Will shortens the Probate process exponentially, proving the authenticity of the Will by the signature of the Witnesses and Notary, and clearly stating the distribution of assets to speed the transfer of the estate to the designated survivors.

LAST WILL SOFTWARE & DOCUMENT EXAMPLES
---
ANSWER QUESTIONS, GET DOCUMENTS
TM
STEP-BY-STEP SIMPLE, FINISHED IN MINUTES!
HOW STANDARD LEGAL SOFTWARE WORKS: A simple introduction and easy-to-read overviews are presented first. A questionnaire follows. Text fields, check boxes and drop-down menus are used to collect your answers, with additional instructions next to each field if needed. As soon as the questionnaire is finished, the final documents are created instantly: just save and print! It's that easy.
---
MILLIONS OF DOCUMENTS DOWNLOADED. HUNDREDS OF THOUSANDS OF SATISFIED CUSTOMERS SINCE 2002.
---
INCLUDED WILL DOCUMENT STRUCTURES:
Standard Legal provides a number of Last Will and Testament documents structured to address the specific needs of the most common personal situations. Each of these structures is valid in all 50 states:
– WILL FOR MARRIED PERSONS WITH CHILDREN, PROPERTY TO SPOUSE THEN CHILDREN
– WILL FOR MARRIED PERSONS WITH NO CHILDREN, PROPERTY TO SPOUSE
– WILL FOR SINGLE PERSONS WITH CHILDREN, PROPERTY TO CHILDREN
– WILL FOR SINGLE PERSONS WITH NO CHILDREN, SPECIFIC GIFTING OF PROPERTY
– WILL FOR DIVORCED PERSONS WITH CHILDREN, PROPERTY TO CHILDREN
– WILL FOR DIVORCED PERSONS WITH NO CHILDREN, SPECIFIC GIFTING OF PROPERTY
– WILL FOR A SAME-SEX COUPLE WITH CHILDREN (Married or Civil Union)
– WILL FOR A SAME-SEX COUPLE WITH NO CHILDREN (Married or Civil Union)
– WILL FOR AN UNMARRIED COUPLE WITH CHILDREN
IMPORTANT NOTE: a single purchase of this software title allows a Married Couple to create a Last Will document for EACH SPOUSE. Learn more about 'Husband and Wife Wills' in this Standard Legal Law Library post.
INCLUDED WILL DISTRIBUTION OPTIONS:
In addition to these common family-structure document options, Standard Legal also includes Wills that manage specific distribution processes:
– WILL WITH SPECIFIC GIFTING PROVISIONS: This document allows the Testator to designate certain assets to certain beneficiaries; it is a common format for a single person without children to create a Will. While specific gifting is never required (and the most common Will types provide for general distributions of assets instead of specific gifting), this document option exists to create a Will with named persons matched with highly-specific asset gifting clauses.
– WILL REQUIRING AN ASSET SALE FOR CASH DISTRIBUTION: A Will Directing the Sale of Assets and Payment of Proceeds to Beneficiaries is also included. This Will provides that all real and personal property of the decedant be sold after his or her death and the money generated by the sale of such property be distributed to the persons named by the Testator to his or her beneficiaries. This Will allows either a specific dollar amount to be passed to each beneficiary or a percentage of the total proceeds after the sale of the property.
IMPORTANT WILL DOCUMENT FEATURES:
Standard Legal's Will documents include some important language and features:
SELF-AUTHENTICATING: Each Standard Legal Last Will is set up to be "self-authenticating", which means that finding and using the services of a Notary is not required in nearly all states! Every Will form includes both a detailed witness verification provision (i.e. self-authorizing) and the standard Notary's Acknowledgement form. Thus, the validity of your Will is doubly-covered!
DESIGNATION OF A GUARDIAN FOR CHILDREN: Persons with young children often wish to designate a guardian for those children should the unexpected ever occur. Standard Legal's Last Will and Testament documents for persons 'with Children' have language within each document that allows for the naming of a Guardian and Alternate Guardian for minor children after death, to directly address this desire.
ADDENDUM FOR THE GIFTING OF PERSONAL PROPERTY: If the Testator wishes to make gifts of personal property, keepsakes, heirlooms or mementos to specifically-named individuals, this Addendum document should be used to name these beneficiary and distribute these assets. This Addendum allows the designation of as many distributions as desired!
ADDITIONAL RELATED FORMS:
Also included with the Will package are two important documents to assist the Executor in distributing the estate per the terms of the Will:
DISPOSITION OF BODILY REMAINS DOCUMENT: Standard Legal also includes two different Notice of Final Disposition documents, one for burial and one for cremation. This document allows you to describe your wishes as they pertain to funeral arrangements and the disposition of your bodily remains. Using this document permits you to declare your desires while you are alive for specific funeral arrangements after death. This document should be provided to your loved ones now, relieving them of having to make these choices during a difficult time. If there is no Final Disposition document prepared in advance, the law in the state where you die generally determines who will decide how the remains are handled. This document allows you to make your wishes known in advance!
ASSETS AND ACCOUNTS LIST: Finally, an Assets and Accounts List form is included, allowing you to list the location of all of your bank accounts, insurance policies, safety deposit boxes, stocks and bonds, and other liquid assets, so your family and/or Executor has a complete record of where your assets can be found. Use this form to make sure ALL of your assets are made available to your beneficiaries!

A Last Will & Testament document protects the structure and relationships within your family by making your wishes clearly known to all. Why not spend a few minutes and a very small amount of money to create the Will papers that are so important to your family's future?
Take advantage of the ease of use and completeness of product that Standard Legal can provide. Get the peace of mind that solidifying your Will can bring. Create a comprehensive Last Will and Testament for your family today!
WHY CHOOSE STANDARD LEGAL?
☆ LEGAL & VALID IN ALL STATES: The documents from Standard Legal are valid in every USA state and territory. Primary documents cover federal law, with state-specific language or forms provided as required.
☆ QUALIFIED ATTORNEY AUTHORS: All of the legal documents within each Standard Legal software title are carefully researched and written by highly-qualified, experienced, licensed attorneys.
☆ UP-TO-DATE LEGAL CONTENT: Documents and instructions are revised any time a state or federal law, statute or administrative requirement changes. Our legal forms content is in constant review!
☆ STEP-BY-STEP INSTRUCTIONS: Clear instructions are posted directly next to each question asked. No 'legal-eze' either! Standard Legal writes in a way that is "step-by-step" and easy to understand.
☆ IMMEDIATE ACCESS: Use the software instantly after purchase! Get encrypted links to a download within seconds, both on-screen with your order invoice and again as a backup in an email confirmation.
☆ EASILY DOWNLOADABLE FORMS: Standard Legal's documents can be downloaded in one .zip file, with additional state-specific documents available from the online forms server.
☆ USE WITH ANY DEVICE: Windows, Mac, Apple, iPad, Android, Linux. Desktop PC, laptop, tablet, mobile device. Nearly any system can use the software from Standard Legal!
☆ FREE TECHNICAL SUPPORT: Standard Legal helps its clients in any way we can. While we cannot provide legal advice, we will gladly assist you by email, phone or social media to access and use our software.
☆ NO SHIPPING FEES: with downloadable software, shipping is FREE! Don't pay to ship printed packages of paper. Just download the files and print only the documents you need. (Unless you prefer the optional CD!)
☆ FULLY SECURE PERSONAL DATA: Our software is downloaded then completed offline, not run through an online webform that transmits your data across the internet to be stored in a database. So your answers stay completely private and secure, and your personal data never leaves your hard drive!
☆ SAVE MONEY ON LEGAL FEES: Quickly and easily create the same kinds of legal documents as a local attorney. And save hundreds — sometimes even thousands — of dollars in the process!
☆ FREE ATTORNEY FIND: If you decide that handling a legal situation yourself might not be the best course of action, search our Attorney Find section for FREE to find a local attorney to help you.
☆ 100% MONEY BACK GUARANTEE: Standard Legal guarantees that all of the documents in our software package will be accepted when completed as directed and submitted to the appropriate court, clerk, office or agency. Should any document not be accepted due to an issue with our content, we will correct that document at once or refund 100% of the purchase price.
SYSTEM, SOFTWARE AND FILE USE REQUIREMENTS:
Standard Legal software is PDF-based and works on virtually all Windows, Apple, Macintosh, Android and Linux-based PCs, laptops, tablets and mobile devices.

Using the FREE Adobe Reader (or the commercial Adobe Acrobat), the legal documents are interactive PDFs featuring a questionnaire that converts the information you provide into a finished legal document. It is best to use the most up-to-date version of Reader; see 'Help > Check for Updates' in the program's menu to get the latest version. It is CRITICAL that Reader ALWAYS be used as a stand-alone program or mobile app and NEVER within a web browser.
Links to a downloadable .zip file are presented immediately upon the completion of your order. This .zip must be expanded to access the PDF files. Most computers have an expansion program like WinZip pre-installed; if your computer does not we recommend StuffIt Expander (it's FREE!). Once the file is downloaded, all documents within can be completed offline, no internet connection required. Read the START-HERE.txt file included in the initial download for more instructions.
Access links to the downloadable .zip file and/or the online forms server for this title are available for one (1) year after the date of purchase, upon request. Files downloaded and saved to a device may be used without time limit, but new downloads are no longer accessible one year after the date of purchase. A discount code is available to past customers by email to make a new or updated purchase.
Is Standard Legal Software Right for You?
To use any type of software requires a basic understanding of how a computer device operates. To use Standard Legal software, you must be able to complete these basic computer tasks: download a software file;  expand a .zip file;  enter a username and password to access a protected website;  navigate a menu;  install and launch a program;  and open, save then print a completed document. If you do not fully understand how to complete any of these common steps, we recommend you use our Document Preparation Service or find a local attorney to create documents for you.

---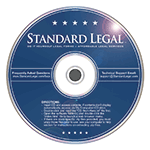 WANT YOUR SOFTWARE ON A CD? A software CD of the legal form titles you choose can be mailed to you for an additional $9.95. Simply select the radio button in front of 'Mailed CD: $9.95' during checkout.
---
---

ATTORNEYS, PARALEGALS AND DOCUMENT PREPARATION PROFESSIONALS: This software is licensed exclusively for pro se users. To create custom legal documents on behalf of clients, review our Professional Edition software at ParalegalDocuments.com.

---
Only logged in customers who have purchased this product may leave a review.