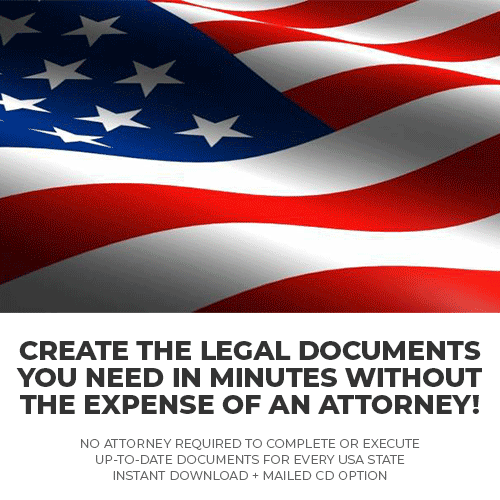 Land Contract Legal Forms Software
$19.95
Create seller-financed real estate documents and eliminate the bank! Through a Land Contract, a Buyer and Seller finance a home purchase directly between them over time. The Buyer and Seller set their own terms for the deal — skipping all that extra bank-required paperwork! Easy-to-use legal forms software includes documents for installment and balloon payment structures, plus undeveloped property (vacant land).
Description
AMERICA'S BEST LAND CONTRACT SELF-HELP LEGAL DOCUMENT SOFTWARE
Typically, residential real estate transactions are thought of in one way: a Buyer and a Seller work through a realtor and a bank or mortgage broker to complete a sale with a single transaction and a one-time payment to the Seller.
But there is another non-traditional option for the sale of real estate that is becoming more common every day: it's called a Land Contract. (It's sometimes called a "Contract for Deed" as well.)
A Land Contract allows the owner of a property to sell that property to a Buyer over the course of time, financing the purchase price on behalf of the Buyer and collecting interest on the sale amount. The Buyer does not need to go out and find a mortgage from a bank or mortgage company, nor does the Buyer have to pay the entire purchase price to the Seller upfront. Rather, the Buyer signs a Land Contract with the Seller agreeing to purchase the property in either installment payments or in installment payments with a balloon payment on a certain date. The Buyer then moves into the property and makes the agreed upon monthly payments. When all of the payments (and any required balloon payments) are made according to the terms of the Land Contract, only then does the Buyer finally take title of the property from the Seller.
A Land Contract gives a Buyer who may have a difficult time finding bank financing due to credit problems or non-traditional income sources the opportunity to purchase a home. It's a great way for a Buyer to break free from "rent payments" and build equity in a property.
A Land Contract allows Sellers to make additional money on the financing of the sale of a property, collecting not only the purchase amount but also the interest on the principal that is generated over time. Plus, the Seller maintains title to the property until all of the payments are made, thereby allowing the Seller to keep control of the property. If the Buyer misses any payments to the Seller, the Seller keeps the previous payments made on the Land Contract as rental income, and the option for the transfer of property to the Buyer is lost.
---
MILLIONS OF DOCUMENTS DOWNLOADED. HUNDREDS OF THOUSANDS OF SATISFIED CUSTOMERS SINCE 2002.
---
DOCUMENTS INCLUDED IN THE CONTRACT FOR DEED SOFTWARE
This Standard Legal Land Contract legal forms software package contains the following forms:
– a Land Contract utilizing a down payment with monthly payments thereafter in order to pay the purchase price;
– a Land Contract utilizing a down payment, with monthly payments thereafter and then a balloon payment at a later date in order to pay the purchase price;
– a Memorandum of Land Contract that can be filed with your local recorders office (when applicable);
– a Land Contract for Vacant Land, for property that has no dwelling on it and is undeveloped;
– Property Disclosure Forms, many of them state-specific, required for nearly all real estate transactions;
– a Termination of Land Contract, used when the purchasing party defaults on the contract as a way to reclaim clear title;
– an optional Addendum to Create an Escrow Account, to allow recurring expenses like taxes, insurance or utilities to be placed into escrow to ensure their payment.
BONUS SOFTWARE: FINANCIAL CALCULATORS
Work out the numbers related to your legal forms with this Windows-based Financial Calculator Software Suite! Amortization Schedule Calculator, Prepayment Calculator, Mortgage Qualifier Calculator, Loan Spread Calculator, Closing Costs Calculator, Quick Calculators, Rent versus Buy Calculator, Biweekly Payments Calculator, and a Home Seller's Proceeds Calculator. These tools let the parties in a financial transaction examine all of the pricing and financing options, then build those final numbers into the legal documents! For use with Windows only.
While there are some potential pitfalls and things to watch for within a Land Contract (from the perspective of both the Buyer and the Seller), these pitfalls are clearly detailed in the introductions and overviews; just another reason to use the Land Contract software from Standard Legal!
Want to better understand the pros and cons of the Land Contract sales process? Read the Standard Legal Law Library article LAND CONTRACT: When and Why a Home Sale by Land Contract Makes Sense.
WHY CHOOSE STANDARD LEGAL?
☆ LEGAL & VALID IN ALL STATES: The documents from Standard Legal are valid in every USA state and territory. Primary documents cover federal law, with state-specific language or forms provided as required.
☆ QUALIFIED ATTORNEY AUTHORS: All of the legal documents within each Standard Legal software title are carefully researched and written by highly-qualified, experienced, licensed attorneys.
☆ UP-TO-DATE LEGAL CONTENT: Documents and instructions are revised any time a state or federal law, statute or administrative requirement changes. Our legal forms content is in constant review!
☆ STEP-BY-STEP INSTRUCTIONS: Clear instructions are posted directly next to each question asked. No 'legal-eze' either! Standard Legal writes in a way that is "step-by-step" and easy to understand.
☆ IMMEDIATE ACCESS: Use the software instantly after purchase! Get encrypted links to a download within seconds, both on-screen with your order invoice and again as a backup in an email confirmation.
☆ EASILY DOWNLOADABLE FORMS: Standard Legal's documents can be downloaded in one .zip file, with additional state-specific documents available from the online forms server.
☆ USE WITH ANY DEVICE: Windows, Mac, Apple, iPad, Android, Linux. Desktop PC, laptop, tablet, mobile device. Nearly any system can use the software from Standard Legal!
☆ FREE TECHNICAL SUPPORT: Standard Legal helps its clients in any way we can. While we cannot provide legal advice, we will gladly assist you by email, phone or social media to access and use our software.
☆ NO SHIPPING FEES: with downloadable software, shipping is FREE! Don't pay to ship printed packages of paper. Just download the files and print only the documents you need. (Unless you prefer the optional CD!)
☆ FULLY SECURE PERSONAL DATA: Our software is downloaded then completed offline, not run through an online webform that transmits your data across the internet to be stored in a database. So your answers stay completely private and secure, and your personal data never leaves your hard drive!
☆ SAVE MONEY ON LEGAL FEES: Quickly and easily create the same kinds of legal documents as a local attorney. And save hundreds — sometimes even thousands — of dollars in the process!
☆ FREE ATTORNEY FIND: If you decide that handling a legal situation yourself might not be the best course of action, search our Attorney Find section for FREE to find a local attorney to help you.
☆ 100% MONEY BACK GUARANTEE: Standard Legal guarantees that all of the documents in our software package will be accepted when completed as directed and submitted to the appropriate court, clerk, office or agency. Should any document not be accepted due to an issue with our content, we will correct that document at once or refund 100% of the purchase price.
SYSTEM, SOFTWARE AND FILE USE REQUIREMENTS:
Standard Legal software works on virtually all Windows, Apple, Macintosh, Android and Linux-based PCs, laptops, tablets and mobile devices.
Generally, the legal forms are provided as Microsoft Word and Adobe PDF files with fillable form fields. Not all forms are provided in both formats in all cases. SOFTWARE FORMATS + SAMPLES >

A full-featured version of Microsoft Word is one option to complete the Word-formatted documents. FREE open-source word processing programs like OpenOffice, LibreOffice, Google Docs, etc. may work as well.

Use the FREE Adobe Reader to complete and print the PDF document files. It is best to use the most up-to-date version of Reader; see 'Help > Check for Updates' in the program's menu to get the latest version. It is CRITICAL that Reader ALWAYS be used as a stand-alone program or mobile app and NEVER within a web browser.
Links to a downloadable .zip file are presented immediately upon the completion of your order. This .zip must be expanded to access the PDF files. Most computers have an expansion program like WinZip pre-installed; if your computer does not we recommend StuffIt Expander (it's FREE!). Once the file is downloaded, all documents within can be completed offline, no internet connection required. Read the START-HERE.txt file included in the initial download for more instructions.
Access links to the downloadable .zip file and/or the online forms server for this title are available for one (1) year after the date of purchase, upon request. Files downloaded and saved to a device may be used without time limit, but new downloads are no longer accessible one year after the date of purchase. A discount code is available to past customers by email to make a new or updated purchase.
Is Standard Legal Software Right for You?
To use any type of software requires a basic understanding of how a computer device operates. To use Standard Legal software, you must be able to complete these basic computer tasks: download a software file;  expand a .zip file;  enter a username and password to access a protected website;  navigate a menu;  install and launch a program;  and open, save then print a completed document. If you do not fully understand how to complete any of these common steps, we recommend you use our Document Preparation Service or find a local attorney to create documents for you.

---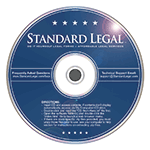 WANT YOUR SOFTWARE ON A CD? A software CD of the legal form titles you choose can be mailed to you for an additional $9.95. Simply select the radio button in front of 'Mailed CD: $9.95' during checkout.
---
---

ATTORNEYS, PARALEGALS AND DOCUMENT PREPARATION PROFESSIONALS: This software is licensed exclusively for pro se users. To create custom legal documents on behalf of clients, review our Professional Edition software at ParalegalDocuments.com.

---
Only logged in customers who have purchased this product may leave a review.